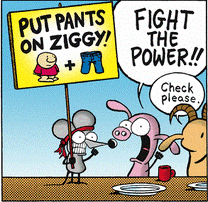 The
"Pants on Ziggy Movement"
refers to a storyline in which
Rat
organizes protests against the apparent lack of pants of the titular character of the comic strip "Ziggy" by Tom Wilson (II).
[1]
The main storyline ran from December 12, 2009 to December 16, 2009, though the movement began September 28, 2009. Ziggy's previous appearances/mentions in the strip include May 27, 2006, February 21 2008, and August 9, 2009.
[2]
History
Rat begins by calling Ziggy's pantslessness "the biggest scandal in comic strip history". Pastis comments that Rat does not wear pants either, which Rat chooses to ignore. Rat enlists Pig, Guard Duck, and Mr. Snuffles to join in a protest march, a hunger strike, and a trip to Universal Press Syndicate Vice President John Glynn's office.
The movement ends when Tom Wilson, Jr. agrees to put pants on Ziggy in exchange for a character from Pearls to be Ziggy's snuggle buddy. Rat chooses Pastis, stating that he was chosen because he wouldn't be missed in the strip.
References​​