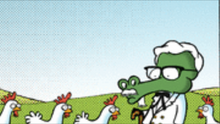 Larry's Chicken Farm was a farm started by the crocs in a sad attempt to make food for themselves.
The Chickens
The chickens were smarter than they looked, they easily figured out that Larry was eventually going to kill them all, for 2 reasons:
Larry was dressed up as Colonel Sanders.
Larry gave them K.F.C Chicken for food.